Preschool Education and Learning App
Kokotree is the preschool educational app you've been looking for.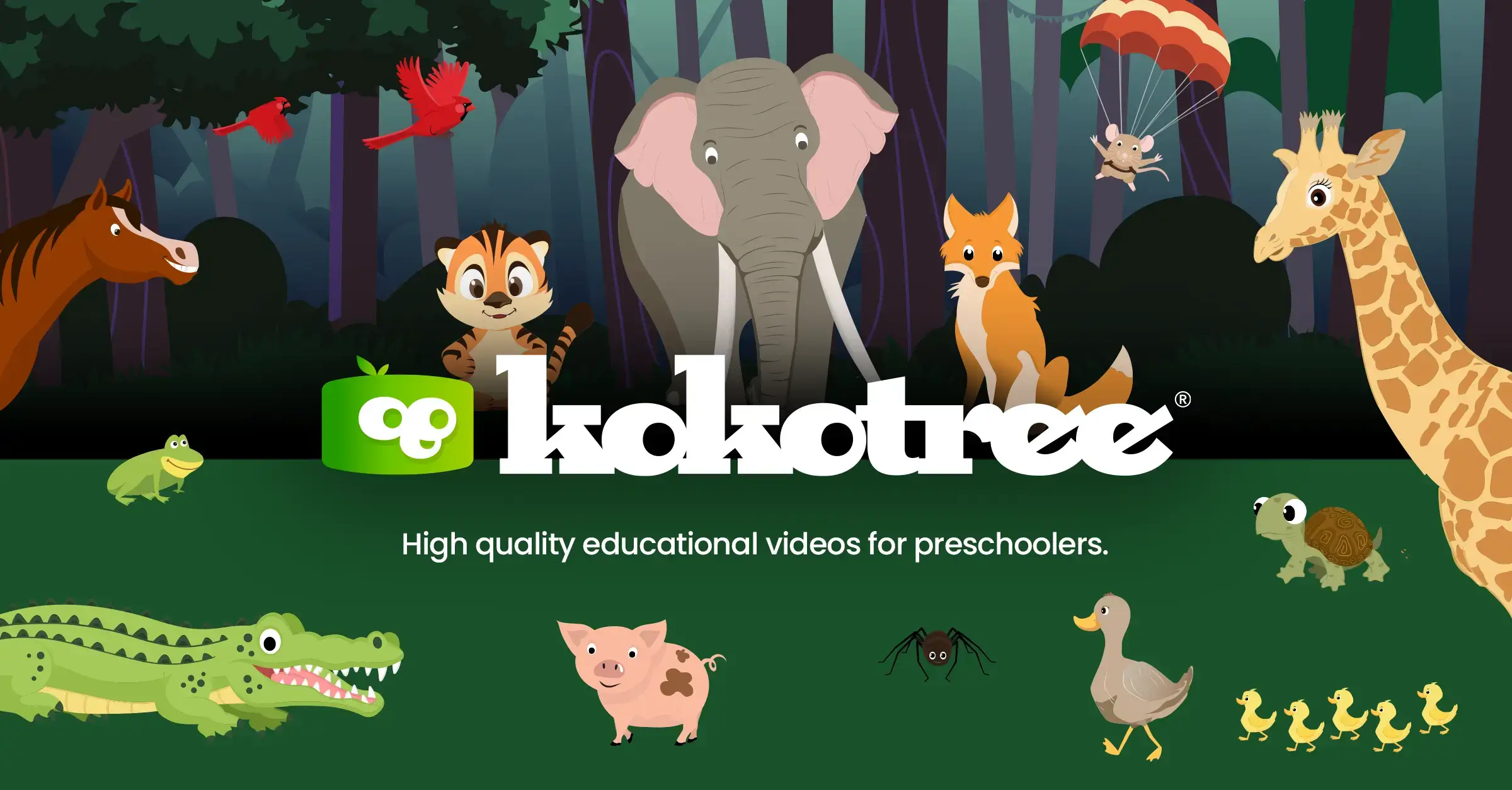 Finally, you can rest assured that your child is safe from ads, inappropriate content, and those "weird YouTube videos". Save time and peace of mind. No more temper tantrums, screaming when you take away the phone, or wasting time searching for an educational app.
You've found it!
Our library of educational videos is carefully crafted by educators and artists, making animated learning engaging, fun, and effective. Our animation process is backed by the latest research in education through videos, apps, and technology. Kokotree is safe, ad-free, and easy to use.
Your child will want to watch our videos over and over.
Kokotree is a preschool education app that helps your child love learning.
It is designed to be used in short bursts throughout the day, making it perfect for busy families on the go. And because it's based on proven educational principles, you can be sure your preschooler is getting a quality education.
Educational Videos
Quality Content
Safe Environment
No Ads or pop-ups
On-demand
Safe and secure app
Ideal for ages 1-5
If you're looking for a fun and educational preschool app, look no further! Our app offers a wide variety of videos that your toddler is sure to love. Plus, our service is completely safe and ad-free so you can rest assured knowing that your child is only seeing the best content.
You're busy. And it's really hard to find a quality preschool education app.
Parents are always busy, and sometimes it seems like there are not enough hours in the day.
Where to start?
Which app should I choose?
There are too many apps to evaluate!
Are the videos appropriate for a preschooler?
Do I want my child to see advertisements?
What if my child sees weird, adult content?
Which app is entertaining AND educational?
The list goes on.
Most popular preschool learning apps are not educational!
You've most likely tried several streaming services in the past, assuming they are safe for your child, including YouTube TV, YouTube Kids, Amazon Prime Video, Sesame Street, PBS Kids, HBO Max, Cartoon Network+, Netflix Kids., and Disney Plus.
While these services include children's programming and movies, they aren't intended for primary education and some of them contain adult themes. You're looking for an educational app for kids. Also, toddlers should not watch live TV. So, which streaming service is best suited for youngsters?
Introducing the solution to your problem: Kokotree: a preschool education app that works!
Do you want an educational app for your child that is also safe? Look no further than Kokotree. With Kokotree, ads, inappropriate content, and weird videos are a thing of the past. Plus, you won't have to deal with temper tantrums or wasted time searching for an appropriate app.
Our library of videos is carefully crafted by educators and artists, making it engaging, fun, and effective for learning. Our process is based on the latest research in education through videos, apps, and technology. Kokotree is safe, ad-free, and easy to use.
Our videos are both entertaining and educational. They teach skills like counting, the alphabet, and colors. Your child will want to watch them over and over.
Safe Videos
We only produce material that is appropriate for children. You can trust that what your child watches is appropriate.
Parental Controls
We have stringent privacy, security, and content standards in place.
Kid-safe App
Profiles for both parents and children come standard with the app, so you can be sure that everyone only sees appropriate content.
No Ads
It is never appropriate to market advertising toward young children.
High-quality educational videos designed by educators—for preschoolers!
We design engaging and educational videos for your preschooler so they can learn essential academic skills before beginning school.
Your child will learn:
Listening skills and curiosity.
Imagination, creativity, and sense of humor.
Numbers, letters, and the alphabet.
Colors, counting, rhyming, and memory.
Days of the week, months of the year.
Sounds, emotions, patterns.
Backed by research, parents can trust that our streaming service will help their child's development.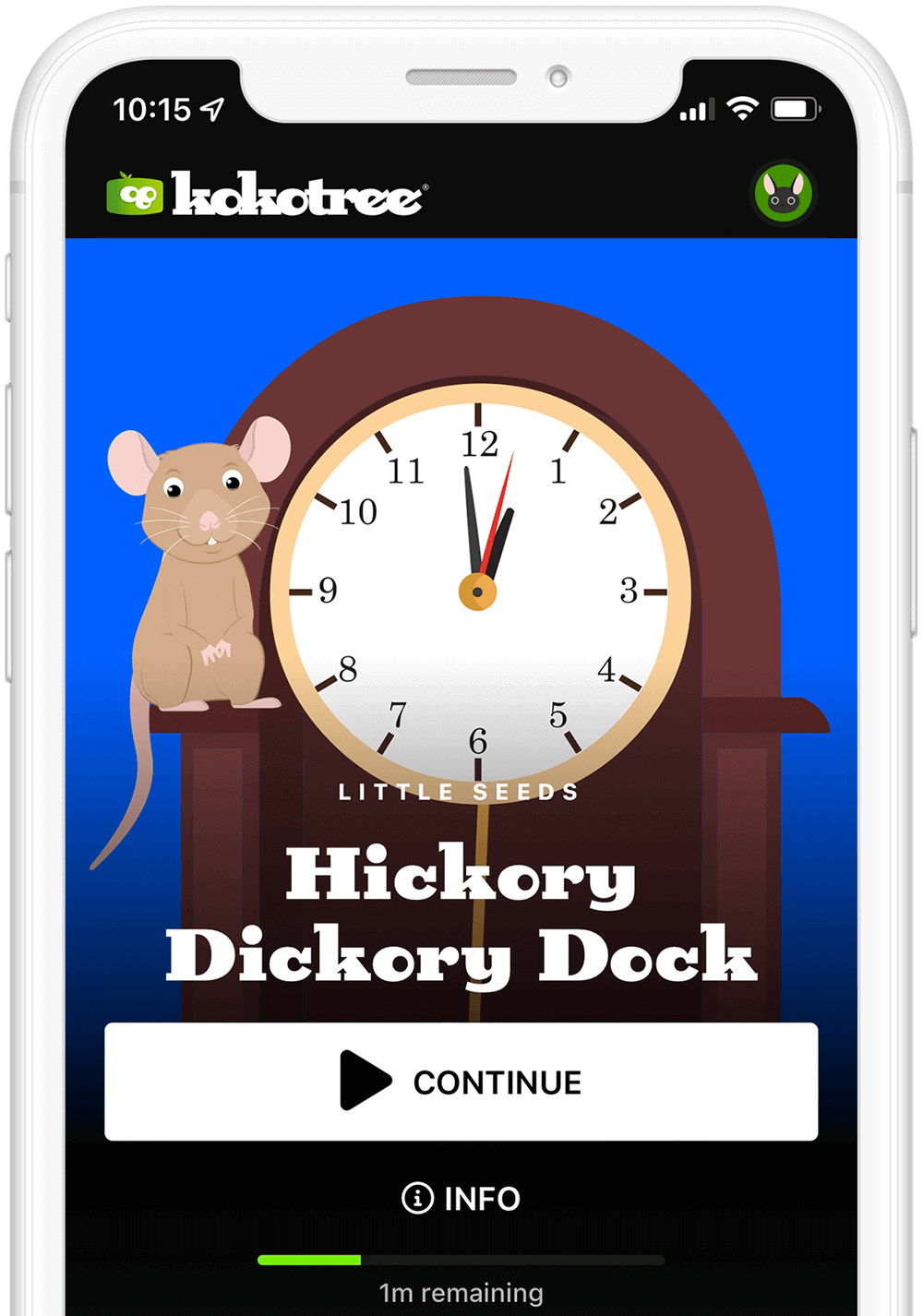 Watch on a child-safe, parent-approved, easy-to-use mobile app.
Get Kokotree on Apple or Android devices now to start enjoying peace of mind and happy kids.
If you're a busy parent, look no further than Kokotree. Not only will it keep your children occupied and entertained, but they will also gain knowledge and skills as they have fun. Our app is designed to be user-friendly—for young children.
We understand how hard it can be to find a safe, preschool education app.
You've probably wasted hours looking for an educational app with good, quality content. We had that same problem! That's why we started Kokotree.
If you have a young child, you'll want an app that is safe and enjoyable for them to use. With so many options on the market, it might be difficult to decide which one is best. Kokotree specializes in high-quality videos that parents approve of.
We provide a comprehensive selection of high-quality videos, games, and activities for youngsters aged one to five years old. We are committed to creating a secure, ad-free learning environment for kids. And we only present age-appropriate subject matter that has been handpicked by our team of educators.
With Kokotree, your preschooler will have a blast while learning essential skills. Packed with entertainment and educational value, this app is guaranteed to help your child thrive. Download now and see for yourself!
Kokotree is affordable. Only $9.99/mo.
A monthly subscription is just $9.99 per month after a free 7-day trial.
Signing up is as simple as one, two, or three!
Sign Up – Joining Kokotree only takes a minute of your time. Create an account now!
Download the app – To download the Kokotree app, go to either the Apple App Store or Google Play.
Log in and start learning – After logging into your account on the app, you can start watching educational videos right away.
Kokotree is a preschool education app.
Kokotree is a safe, preschool education app for young children that is always appropriate. There are no advertising or frightening surprises, so parents can feel comfortable with their kids using Kokotree.
We aim to assist kids to learn how to be lifelong learners. We're dedicated to assisting parents and guardians in getting their children interested in learning in a fun way. We try to instill confidence, educate, and provide all youngsters with potential chances so that they may reach their full potential in life.
Safe environment. No ads. No inappropriate content.
New educational videos each month
Watch on any device. iPhone, iPad, Android, Smart TVs
Designed for preschoolers and toddlers
Child-safe, parent-approved
Entertaining and educational