Alternative to YouTube Kids for Toddlers Preschoolers
Looking for an educational alternative to YouTube Kids?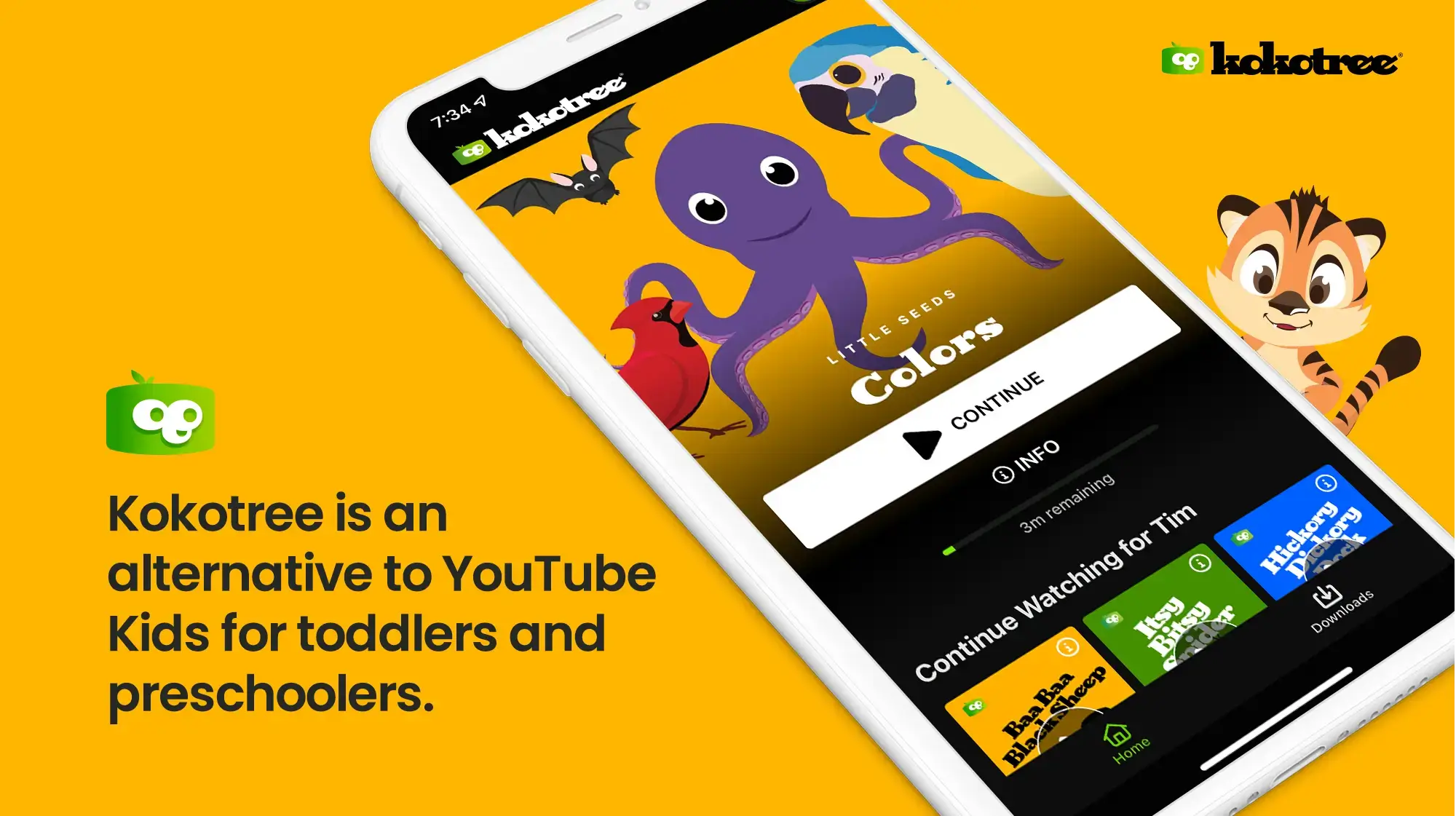 YouTube is too dangerous for preschoolers and toddlers.
As a parent, you want what's best for your child. You want them to be safe, happy, and healthy. But you also want them to have access to the best possible education and entertainment.
The internet can be a scary place for young children.
There are all sorts of things that they could stumble across that you might not want them to see.
That's why it's important to find a safe and age-appropriate online destination for your child. And that's where Kokotree comes in.
Kokotree is an online video platform that offers a wide range of high-quality, kid-friendly content.
It's perfect for toddlers and preschoolers who are just starting to explore the online world.
All of the videos on Kokotree are carefully curated to ensure that they're appropriate for young children. And because Kokotree is advertisement-free, you don't have to worry about your child being exposed to any inappropriate or harmful content.
In addition to being a safe and age-appropriate online destination for your child, Kokotree also offers a wide range of educational and entertaining videos. There's something for everyone on Kokotree, so you can be sure that your child will always find something new and interesting to watch.
So if you're looking for an alternative to YouTube Kids for your toddler or preschooler, be sure to check out Kokotree. It's the perfect way to let your child explore the online world in a safe and age-appropriate way.
If the phone is already in your child's hand, why not make it educational?
With Kokotree, you can prepare your child for kindergarten in a safe and affordable way.
No Ads or pop-ups
Safe Environment
Educational Videos
Quality Content
On-demand
Safe and secure app
Ideal for ages 1 to 5
Age appropriate
Our educational videos are perfect for your little ones, aged 1-5. With high-quality content and a safe environment, they can learn at their own pace without having to worry about ads or pop-ups. Plus, our app is secure and easy to use — ideal for busy parents on the go!
Kokotree is designed for busy families who want to give their children a quality education in short bursts throughout the day.
It's hard to find an educational alternative to YouTube Kids.
Let's face it, parents are busy. Sometimes you have to give your child your phone to watch videos so you can get things done. You want your preschooler to get the best education. But you face challenges…
There are too many apps to evaluate!
Which app should I choose?
Are the videos appropriate for a preschooler?
Do you want your child to see advertisements?
Are you worried your child will see harmful content?
Which app is entertaining AND educational?
Most popular streaming services are not good for toddlers and preschoolers!
Many streaming services market themselves as safe for preschoolers, but often include violent or explicit content. These include YouTube TV, YouTube Kids, Amazon Prime Video, Sesame Street, PBS Kids, HBO Max, Cartoon Network+, Netflix Kids., and Disney Plus.
While these have kids' shows and movies and tv shows, they are not designed for preschool education and some of them have dangerous content. You want an educational app for kids. And live TV is also not good for toddlers. So which streaming service for kids is the best?
At last! A safe, educational alternative to YouTube Kids.
Our fun and educational videos are designed for preschoolers and toddlers. They'll love watching them over and over again. Engaging content will teach your child important skills like letters, numbers, and colors. Plus, our videos are always age-appropriate and safe.
Safe Videos
We only produce kids-friendly content. You should feel good about the educational cartoons your child is watching.
Parental Controls
We have high standards for privacy, security, and content. Screen time recommendations at 30min per day.
Kid-safe App
You get a parent profile and a kid profile. No links out of the app or other distractions.
No Ads
Young children should never be exposed to ads.
High-quality content designed by educators.
Our team of educators design fun and informative videos that will keep your little one entertained while they learn. And best of all, our content is curriculum-aligned, so you can be confident that your child is learning what they need to know before starting school.
Your preschooler will learn:
Listening skills and curiosity.
Imagination, creativity, and sense of humor.
Numbers, letters, and the alphabet.
Colors, counting, rhyming, and memory.
Days of the week, months of the year.
Sounds, emotions, patterns.
And more.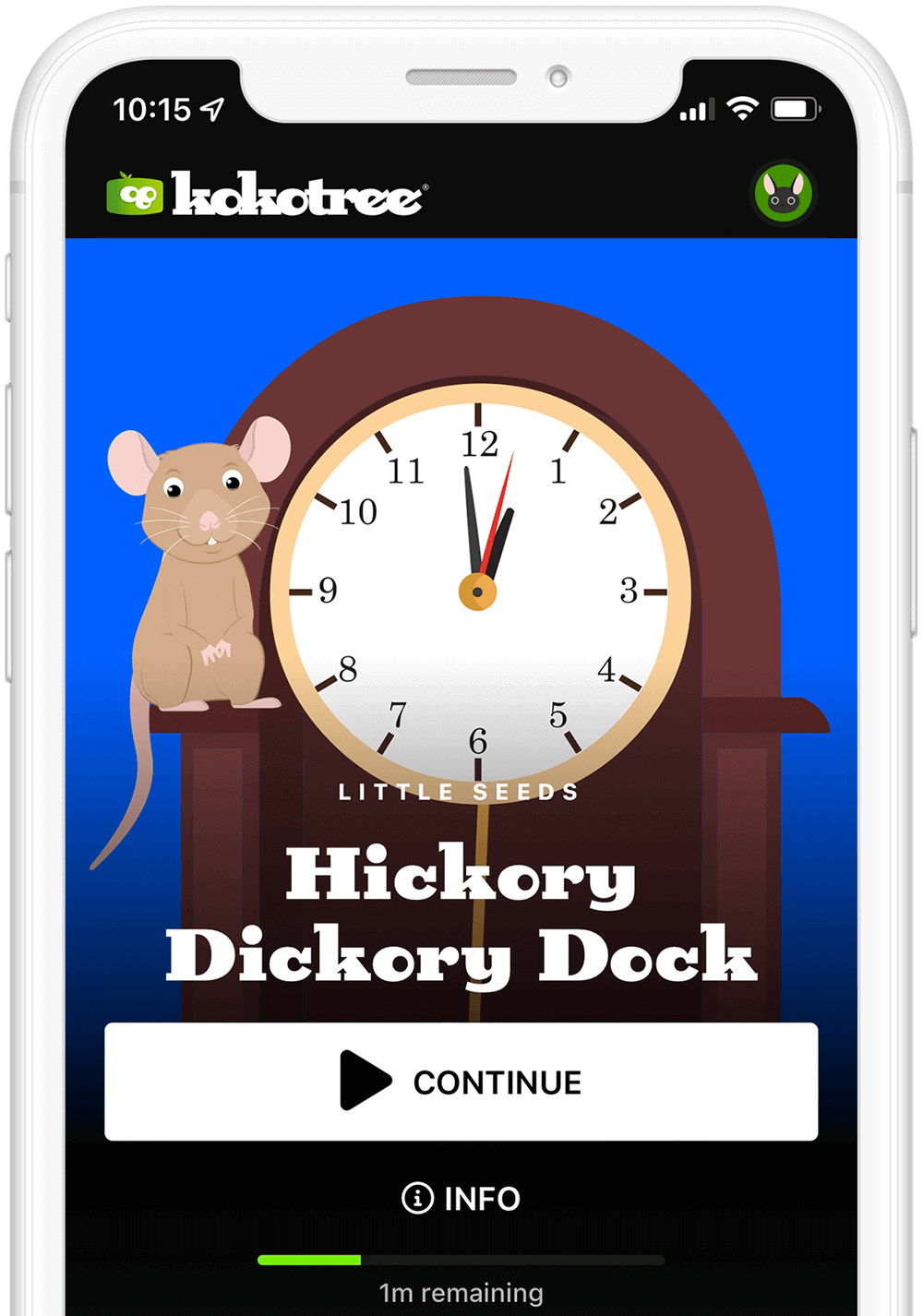 Watch on a child-safe, easy-to-use app.
Kokotree is the perfect way to keep your kids entertained while on the go. Your child can watch, learn new things, and be entertained for hours. And because our app is so easy to use, they can do it all by themselves! Available on Apple and Android devices.
We understand how hard it can be to find an alternative to YouTube Kids.
If you're like most parents, you want to find an educational app for your preschooler that is safe, high-quality, and engaging. But with so many options out there, it can be tough to know which one to choose. That's where Kokotree comes in.
We are a parent-approved educational app that offers a wide variety of high-quality videos, games, and activities for preschooler's. We are committed to providing a safe, ad-free environment for kids to learn and explore. And we only feature age-appropriate content that has been carefully curated by our team of educators.
So if you're looking for an educational app that your preschooler will love and that you can feel good about, look no further than Kokotree. Download us today and let your child discover the world of learning!
Kokotree costs you less than two cups of coffee.
$9.99/ mo
A monthly subscription is just $9.99 per month after a free 7-day trial.
Signing up is as easy as one, two, three!
Sign Up – Create your Kokotree account. It takes less than one minute.
Download the app – Head over to the Apple App Store or Google Play and download the Kokotree app.
Log in and start learning – Login to your account on the app and start watching educational videos immediately.
Kokotree is an educational streaming service for preschoolers and toddlers.
Kokotree is a safe, educational app for kids, toddlers, and preschoolers. No advertisements. No inappropriate content. No scary surprises.
We aim to assist youngsters in becoming lifelong learners. We're dedicated to assisting parents and caregivers in engaging with children in ways that stimulate their interest in learning. We strive to inspire, educate, and open possibilities for all children so that every one of them may realize his or her full potential in life.
Safe environment. No ads. No inappropriate content.
New educational videos each month
Watch on any device. iPhone, iPad, Android, Smart TVs
Designed for preschoolers and toddlers
Child-safe, parent approved
Entertaining and educational