Most toddlers love learning new things, and there are now many excellent free learning apps for toddlers to help them do just that. If you're looking for an educational app for kids to teach your toddler colors, shapes, counting, letters, or just about anything else, here's a list of best practices to find the right app for your toddler.
The best apps for toddlers can be a great way to help your child learn new skills and concepts.
But with so many choices, it can be tough to know where to start. Here are a few things to consider when choosing a learning app for your toddler: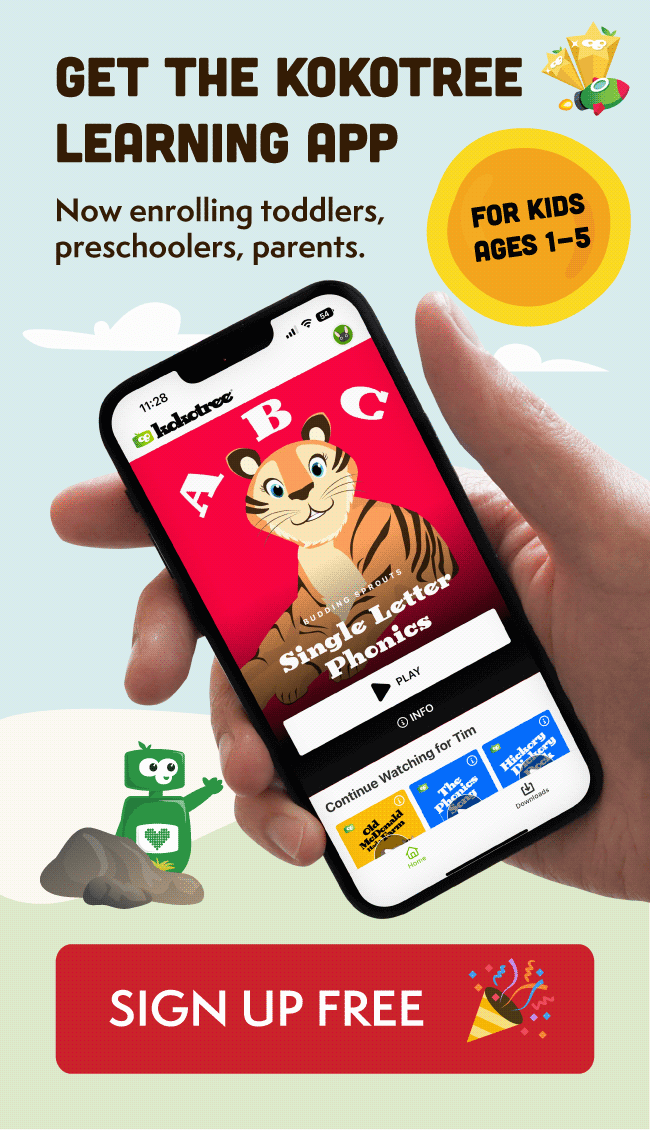 Think about what you want your toddler to learn.
Before downloading apps, take a minute to think about what skills or concepts you want your child to learn and what you think the app teaches kids.
There are teaching apps for just about everything these days, so you should be able to find one that covers the topics you're interested in. If you're unsure where to start, try looking for an educational app featuring preschool learning concepts.
Toddlers should be learning "pre-skills," such as:
You can also find educational apps for young kids that focus on specific interests, like animals, cars, or dinosaurs.
The more that you read, the more things you will know. The more that you learn, the more places you'll go.

Dr. Seuss
What can a 2-year-old toddler learn from a free learning app?
Free apps for toddlers often use nursery rhymes to teach a wide range of skills that will help them to start learning. They can also learn their shapes, colors, and numbers. They can learn how to count and perhaps even begin reading. With the right app, a 2-year-old toddler can have a great time learning while they play.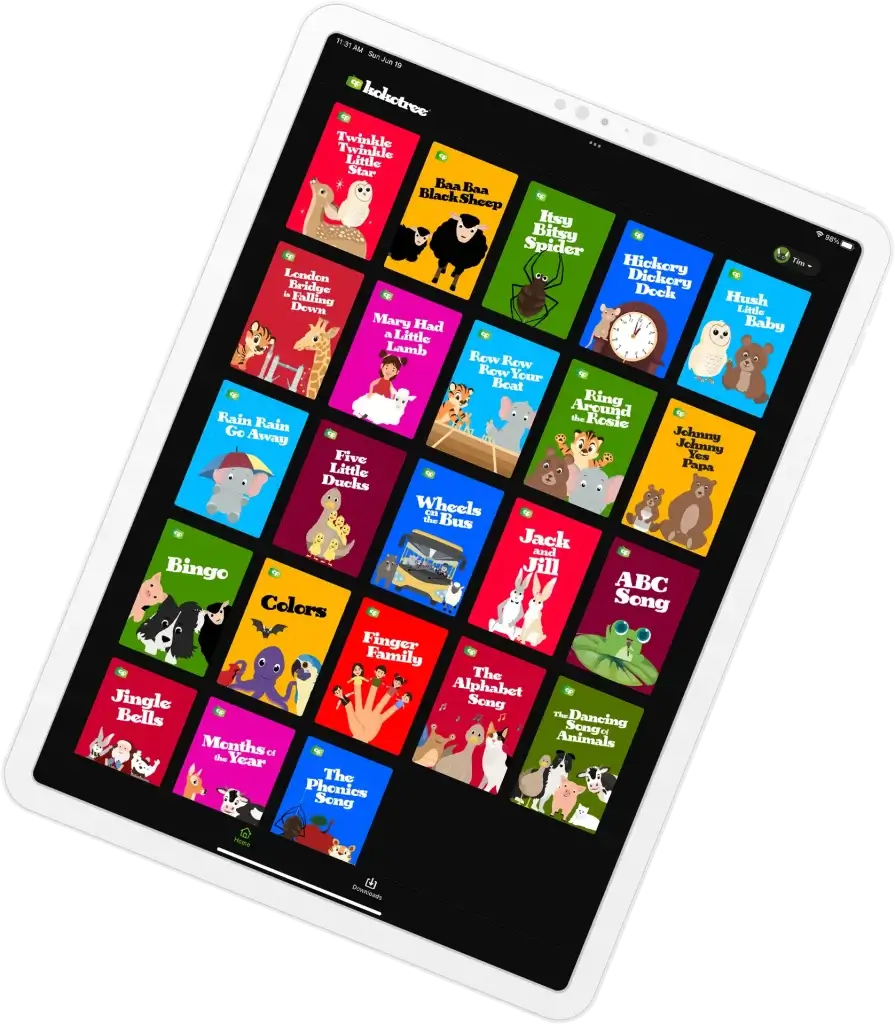 Nursery rhymes can teach 2-year-olds the early foundation of preschool learning concepts.
Cognitive development — Repetition in rhymes and stories is good for the child's brain, teaching them language, memory building, and learning new words. Since rhymes consist of patterns, they are easy to remember and aid in reading comprehension.
Speech — Nursery rhymes are essential for speech and language development and acquisition. They help the child to learn about the difference between sounds and develop an ear for the music of words. They help in articulating words and modulating voices like pitch, volume, and inflection.
Reading — Nursery rhymes are a great way to get kids interested in reading. They're also an excellent foundation for later, more advanced works because many contain sequences that help teach narrative skills like beginning-middle/endings and cause-and-effect relationships between events throughout the story. Working with nursery rhythms helps children detect phonetic segments of words which is essential to develop their understanding of spoken language.
Language — Nursery rhymes have been passed down for generations, and for good reason. They are a great way to introduce children to the magic of language. Nursery rhymes help children learn about the rhythm and flow of speech, and rhyming words help them to develop their vocabulary. In addition, nursery rhymes are a great introduction to poetry. They help children appreciate the beauty of language, and the verses often contain literary devices like alliteration, onomatopoeia, and imagery. Nursery rhymes are more than just simple songs for kids – they are an essential tool for promoting literacy skills.
Creativity — Nursery rhymes often contain repetitive phrases that allow children to use their imaginations to develop their endings or new verses. This creative thinking is essential for later success in school and life.
Social-Emotional Development — Nursery rhymes provide an excellent opportunity for children to practice self-regulation. When singing nursery rhymes, children often need to use self-control to stay on beat, remember the words, and keep up with the other kids. This type of self-regulation is essential for later success in school and life.
History — Nursery rhymes often have a long history, some dating back hundreds of years. By singing these songs, children can learn about the traditions and values of different cultures.
Math — Nursery rhymes often contain counting and number patterns that help children learn about numbers, one-to-one correspondence, and simple addition and subtraction. In addition, many nursery rhymes use spatial concepts like up/down, under/over, in/out, and front/back, which helps children understand these critical concepts.
Physical — Nursery rhymes often contain movement, which is essential for gross motor development. Children can learn to clap, stomp, jump, and turn while they sing these songs.
Nursery rhymes are a great way to promote your child's development. Choose a few of your favorites and sing them with your child today!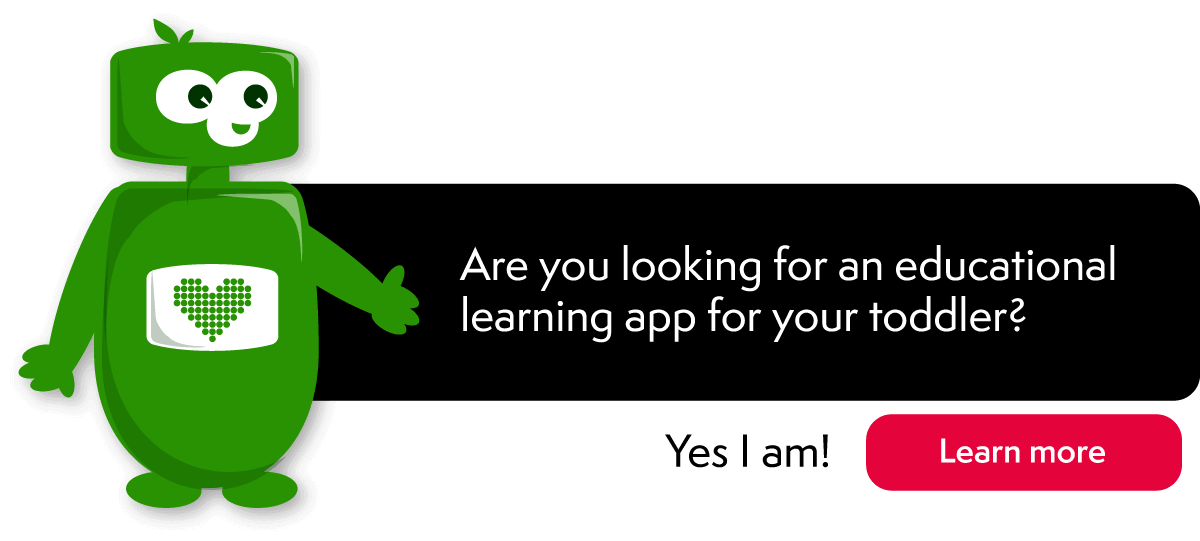 Apps for toddlers learning should have limited screen time.
While learning apps can be beneficial for toddlers, limiting the time your child spends on a screen is essential. The American Academy of Pediatrics recommends that children under 18 months old avoid screens entirely and that children between 18 and 24 months old use them for limited amounts of time under adult supervision. For toddlers, aim to limit screen time to 30 minutes or less per day.
There are two types of screen time:
Passive screen time is when your child is watching TV, playing a video game, or using an app without interacting.
Active screen time – This is when your child uses an app or plays a game that requires them to think and problem-solve.
Research has shown that active screen time can benefit young children, while passive screen time can have adverse effects. Sedentary screen time should be avoided entirely for toddlers.
Parents should supervise when their toddler is using a free learning app.
Most parents are aware of the importance of interaction with their children. Quality time is crucial for a child's development, whether it's reading stories together, playing catch in the backyard, or building blocks towers. However, what many parents may not realize is that this interaction is just as important when it comes to screen time.
Referred to as "joint media engagement," this type of interaction means that parents are actively involved with their children while watching TV or using apps on a tablet. This can be as simple as talking about what they see on the screen or answering questions about the characters and plot.
By doing this, parents can help their children understand and process their watching healthily. Additionally, joint media engagement helps to foster a bond between parent and child and can be a fun and enjoyable experience for both parties.
So next time you're tempted to curl up on the couch with your toddler and mindlessly watch TV, remember that you have the opportunity to create lasting memories and nurture your child's educational development.
See also: Best Learning App for Preschoolers
Parental controls are a must for any learning app for toddlers.
This ensures that your little one does not get their hands on screens meant for adults, such as account information, billing, or other opportunities to "click or tap out of the app." Regarding toddlers, it is always better to err on the side of caution. Therefore, we recommend that you choose an app that has parental controls.
Here's what a parent gate looks like. It's a small screen that appears before you can access screens meant for adults—requiring you to input a passcode or answer a question to proceed. This extra step ensures that only adults can access the app's content.
The eight principles for choosing the best free app for toddlers.
Follow this tested and true guideline for finding the best learning app for your child.
Quality over quantity.
There are a lot of apps out there, but that doesn't mean they're all excellent. When looking for a free learning app for your toddler, it's essential to focus on quality over quantity.
Look for apps that are well-designed and offer educational value. Many free apps are supported by ads, which can be distracting for young children. If you're concerned about ads, you may want to consider paying for an ad-free app.
Also, apps with thousands of videos or games and activities can overwhelm and overstimulate toddlers. It's often better to choose an app with a smaller selection of high-quality content.
Repetition is the key to learning.
Toddlers learn through repetition. When you're looking for the best educational app for kids, look for one that offers content your child can revisit again and again. Many apps also include rewards or badges to motivate children to keep learning.
Simple is better.
Too much stimulation can be overwhelming for toddlers. When choosing a learning app, look for one with simple graphics and clear instructions. Many toddler-friendly apps use bright colors, big buttons, and easy-to-understand icons.
Ease of use.
You want your toddler to be able to use the app without a lot of help from you. Look for an app with a simple interface that's easy to navigate. Toddlers should be able to understand and use the app with minimal assistance.
Educational Value.
The best toddler learning apps offer educational value. Look for an app that teaches your child something new. Many apps also allow children to practice and reinforce their learning skills.
Age-appropriate content.
Choosing an app that's developmentally appropriate for your child is essential. Look for an app that offers relevant content for your child's age and stage of development. Many apps are designed for a specific age group, such as 2-4-year-olds.
Avoid in-app purchases.
In-app purchases can quickly add up, so it's best to avoid them if possible. Look for an app that doesn't require additional investments to access all the content.
Safety and privacy.
When looking for a learning app for your toddler, it's essential to consider safety and privacy. Look for an app that doesn't collect any personal information from your child. Many apps also offer a parent-lock feature to prevent children from making in-app purchases or accessing other content you don't want them to see.
These are just a few things to consider when choosing a learning app for your toddler. By following these guidelines, you can be sure you're selecting a safe, age-appropriate, and educational app.
Subscribe to Kokotree!
Get free parenting tips, news, updates, and content from Kokotree.
Choose a learning app that is specifically designed for toddlers.
Many great educational apps are out there, but not all are created with toddlers in mind. When choosing the best educational app for preschoolers, look for one with bright colors, simple graphics, and easy-to-understand gameplay.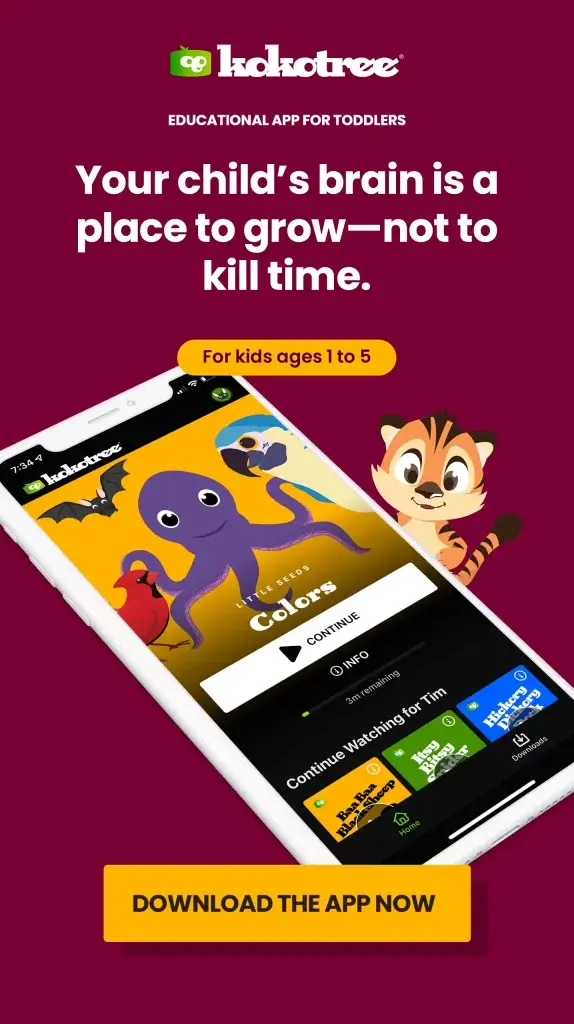 Educational learning apps only.
Toddlers' brains are pretty fragile. Giving them purely entertainment apps can harm their cognitive development. Choose an app that is created specifically for educational purposes. This means no YouTube, Netflix, or Disney+.
These apps have tons of content that may not be appropriate. Plus, they have unlimited content and use addictive features. That's a recipe for disaster.
Avoid toddler apps with too much text.
Toddlers have short attention spans and are still learning to read. So, an app with too much text can be overwhelming and frustrating for them. Instead, choose an app with simple instructions and lots of visual cues.
Look for a toddler app that is interactive and engaging.
The best toddler learning apps hold your child's attention and keep them coming back for more. Choose an app with fun games, songs, and activities your toddler will enjoy.
Make sure the app is developmentally appropriate.
Not all learning apps are appropriate for all toddlers. For example, an app that teaches counting might be too difficult for a toddler just starting to learn numbers. But an app that helps them identify colors or shapes could be perfect. Choose an appropriate app for your child's age and skill level.
Check the app's privacy policy.
Before downloading any app, be sure to read the privacy policy. This will help you understand how your child's data will be used and shared. Look for an app with a firm privacy policy to protect your child's information.
There is no one-size-fits-all solution when it comes to finding the best toddler learning app. But by considering these factors, you can narrow down your options and find an app that will be a good fit for your toddler.
See also: Best Learning App for Kids
Free toddler learning app vs a paid learning app?
There are many different types of toddler learning apps. Some are free, and some cost money. Which one should you choose?
It depends on what you're looking for in a toddler learning app. A paid app might be the best option if you want high-quality educational content. But if you're more interested in "just mindless entertainment", then a free app might be better.
Most free learning apps contain advertisements, which means your child will be exposed to commercial messages. But many paid apps do not have advertisements.
There are also many free apps for kids learning that offer "in-app purchases". You can use some features of the app, but many others are paid features.
Common sense media explains how these work:
Free apps with in-app purchases (also called "freemium" apps) are becoming more and more prevalent in the app stores and are a big source of revenue for app developers. While they're free to download, they offer opportunities within the app to buy things that cost real money.
It's also important to consider the quality of the app. Some free apps for younger kids and toddlers are high quality and offer a lot of value. But some paid apps are not worth the money. Be sure to read reviews before downloading any app, free or paid.
If you find an educational app that is a paid option, make sure that they offer a free trial to give it a test run. You want to find an app that kids love.
It's up to you to decide whether a free or paid app is best for your toddler. But keep in mind that many great learning apps are available for free and paid. So, don't rule out an app just because it's not free.
How can I tell if an app for toddlers is high quality?
Company Reputation.
The reputation of the company that provides the app can be a good indicator of an app's quality. If the developer has created other high-quality apps or successful companies, there's a good chance that their toddler learning app will be similar. You can find information about the developer on the app store page or the app's website.
Free vs. Paid.
Generally, paid apps tend to be higher quality than free apps, and this is because developers are more likely to put more time and effort into creating a high-quality paid app than they are a free app. Of course, there are exceptions to this rule, so read reviews and recommendations before making your final decision.
Quality of graphics, audio, and content.
When looking at a toddler learning app, pay attention to the graphics and audio quality. The app should have simple pictures appropriate for toddlers, and the audio should be clear and easy to understand. Avoid poor-quality graphics and audio apps, as they will likely be less engaging for your child.
Customer support.
When looking at a toddler learning app, determine what customer support is available. The best apps will have customer support representatives to answer your questions via email or phone. They should also have a FAQ section on their website that you can reference if you have any problems using the app. They should have a Help Center that answers questions you may have. They should be easy to contact and respond to you within 24 hours.
Ease of use.
The best toddler learning apps are accessible for parents to use and navigate. The app should have a simple interface that is easy to understand. It should also be easy to find the information you need, such as how to set up an account or how to contact customer support.
Reviews.
One of the best ways to tell if a toddler learning app is a high quality is to read reviews from other parents. You can find reviews on parenting websites, online forums, and the app store. Reading reviews will give you a good idea of what other parents think of the app and whether or not it is worth your time and money.
What if they don't have any reviews? Send them an email or contact them through their website with some questions. Do they answer? Do they reach out to you to answer your questions?
Recommendations.
Another way to tell if an app is of high quality is to get recommendations from other parents or trusted sources. If you know someone with a toddler, ask them which apps they use and why they like them. You can also look for lists of recommended apps from parenting websites or educational organizations.
What is the best learning app for toddlers?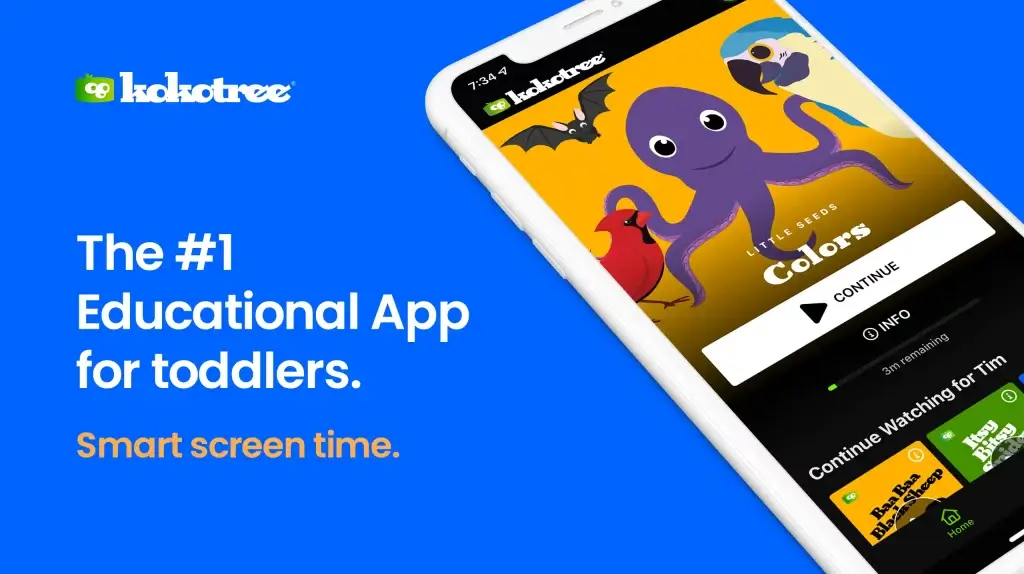 Kokotree! The best app for toddlers, free.
Kokotree is an educational learning app for kids that helps your child learn basic academic concepts like numbers, shapes, colors, the alphabet, and more.
Who is it for?
Kokotree for kids ages 1 to 5. It's perfect for busy parents who want to give their toddler or preschooler a head start on their education.
How does it work?
Instead of passively watching cartoons, your child will be engaged in active, smart screen time—through educational videos that improve their cognitive development.
With Kokotree, your child will learn:
Listening skills and curiosity.
Imagination, creativity, and sense of humor.
Numbers, letters, and the alphabet.
Colors, counting, rhyming, and memory.
Days of the week, months of the year.
Sounds, emotions, patterns.
And more.
When looking for the best toddler learning app, consider the content. It must be high-quality with absolutely no advertisements. Also, decide whether you want a free app or a paid app. And be sure to read reviews to find a high-quality app that will offer value for your child.